2023 Membership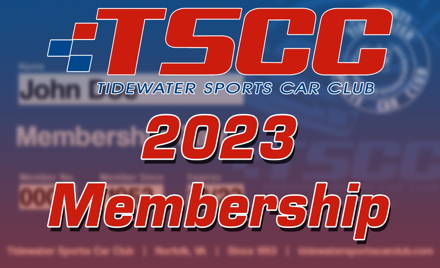 Tidewater Sports Car Club
Sunday, Jan 1 — Sunday, Dec 31, 2023
TSCC Membership Headquarters
,
Norfolk

,

VA
Registration closed November 18, 2023 11:59 PM at 2023-11-18T20:59:00-0800 Registration ends November 18, 2023 11:59 PM at 2023-11-18T20:59:00-0800 Registration opens November 1, 2022 12:00 AM at 2022-10-31T21:00:00-0700 Registration runs from November 1, 2022 12:00 AM to November 18, 2023 11:59 PM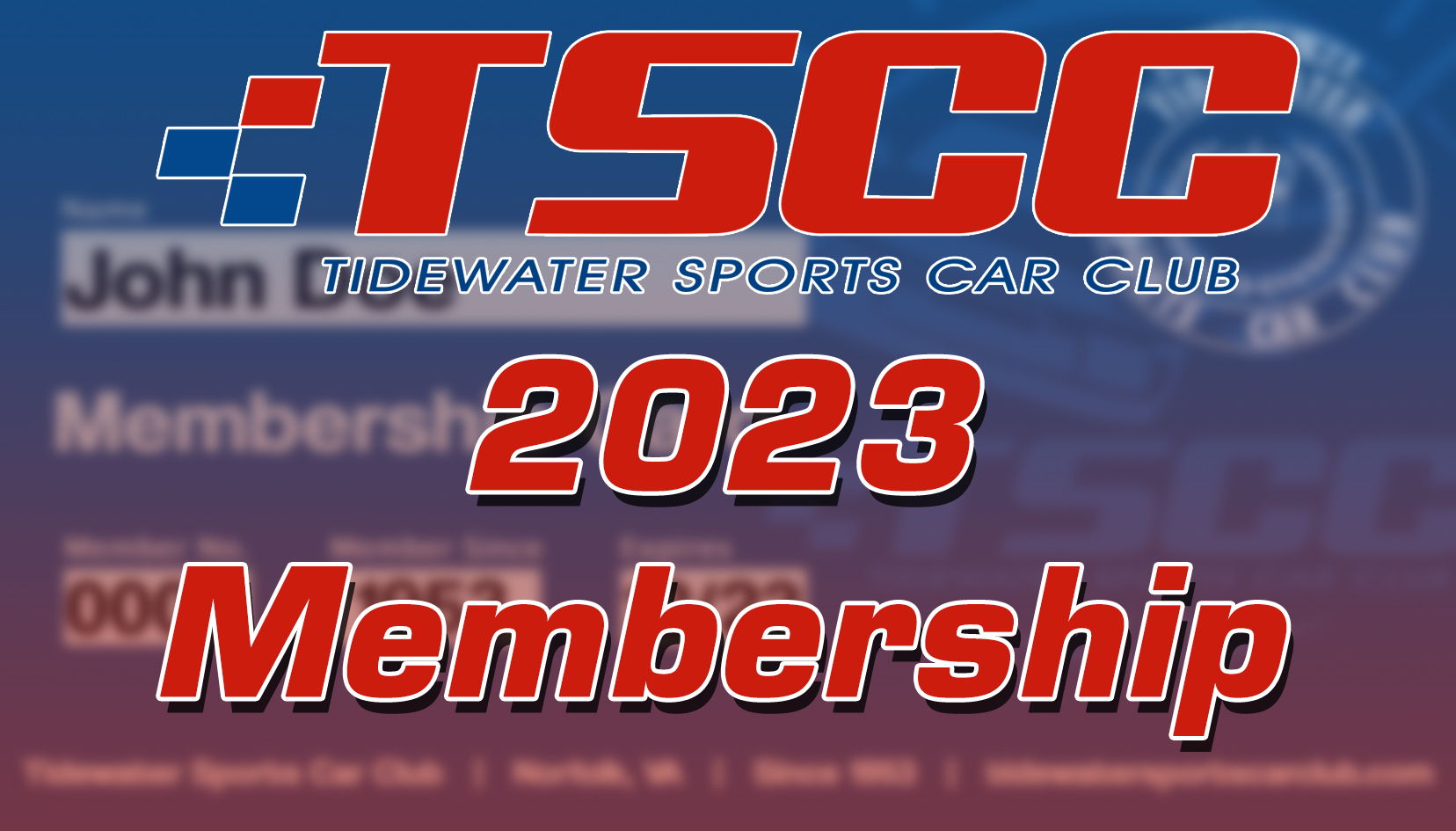 Membership
Membership - $45 - Membership includes access to discounted member rates for each event and eligibility for end of year awards. In addition, Members are eligible to vote in member meetings and receive perks and discounts at several Friends of TSCC locations. Finally members have access to club tools such as scales, fender roller, and others.
Family Basic Membership - $70 for a family of up to 4. Same benefits as a single membership for each family member. Also, all family members are eligible to purchase season passes.
**PLEASE NOTE: The Family Membership is intended for families living in the same household to include spouses, domestic partners, and children 22 and under, who are full time students. It is not intended for family members not living in the same household. For any questions or concerns regarding this policy, please contact the VP of Membership (membership@tidewatersportscarclub.com). Anyone found to be in violation of this will have all of their memberships revoked with no refund.**
Each member will receive a physical plastic membership card. This card will be used at the "Friends of TSCC" business for various perks and discounts! Please make sure the address assocaited with your account is up to date as we will be mailing the cards to that address.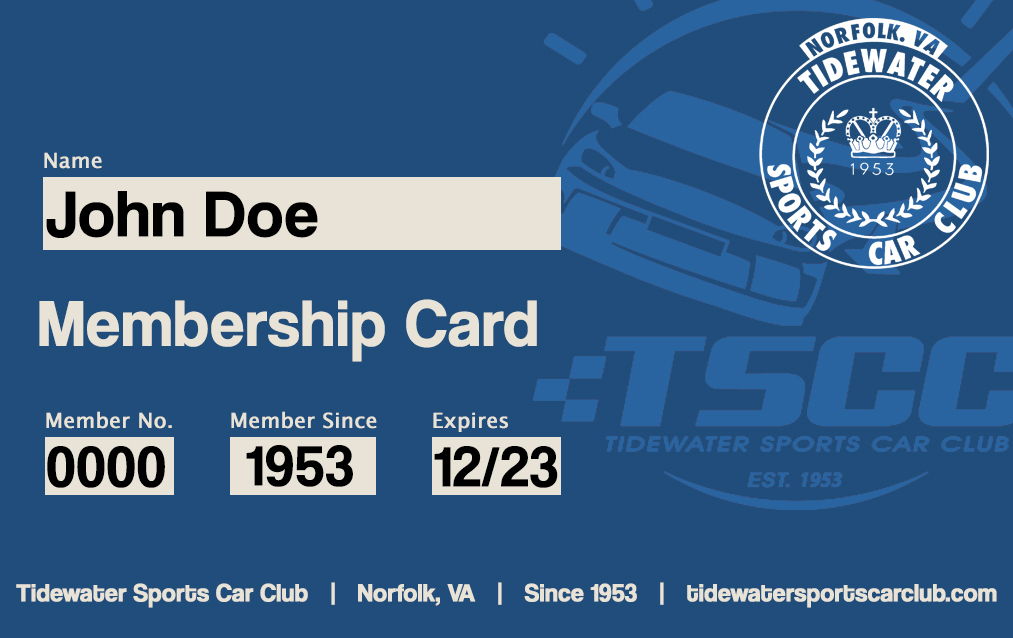 *Card design is not final and subject to change. Cards will be mailed to the address listed in the member's motorsportreg account. Cards will be sent out before the first event of the season.
Season Autocross Subscription
Season Autocross Subscription Package - $215 - This package includes a permanent number and event fees for all Tidewater Sports Car Club season points autocross events. For 2023 there are a total of 8 autocross points events. Remember you must register on MSR for all events in order to be guaranteed your spot.
We anticipate that some of our events will have a waiting list - all Subscription holders need to preregister in order to avoid being placed on the waitlist.
Special events are not included such as Test & Tune, Novice schools, track days, and others. Charity events may or may not be included at the board's discretion. For event dates, please see the calendar on our website or check our Facebook Page. Please note it may take up to 24 hours for your season subscription to process.
Permanent Numbers
Season Autocross Subscription Package - Season Subscription holders will be able to reserve a permanent number immediately after their subscription is processed. Members will be able to secure a permanent number after the first event. Numbers this season will be unique per event, not class.

Autocross Event Entry Fees
Member - $35 online - an additional $10 charge applies to all "day of event" registrations. ***MULTI-DAY events may be higher.
Non-Member - $45 online - an additional $10 charge applies to all "day of event" registrations. ***MULTI-DAY events may be higher.
Note: If a new autocross site is obtained, fees are subject to change.
Championship Points will be based on your best 6 of 8 events. To qualify for a trophy at the end of the season, you must be a member and run a minimum of 5 events. This may change at the discretion of the board.
Other Events
Fees are determined on a per event basis.
More information about club membership is on our website.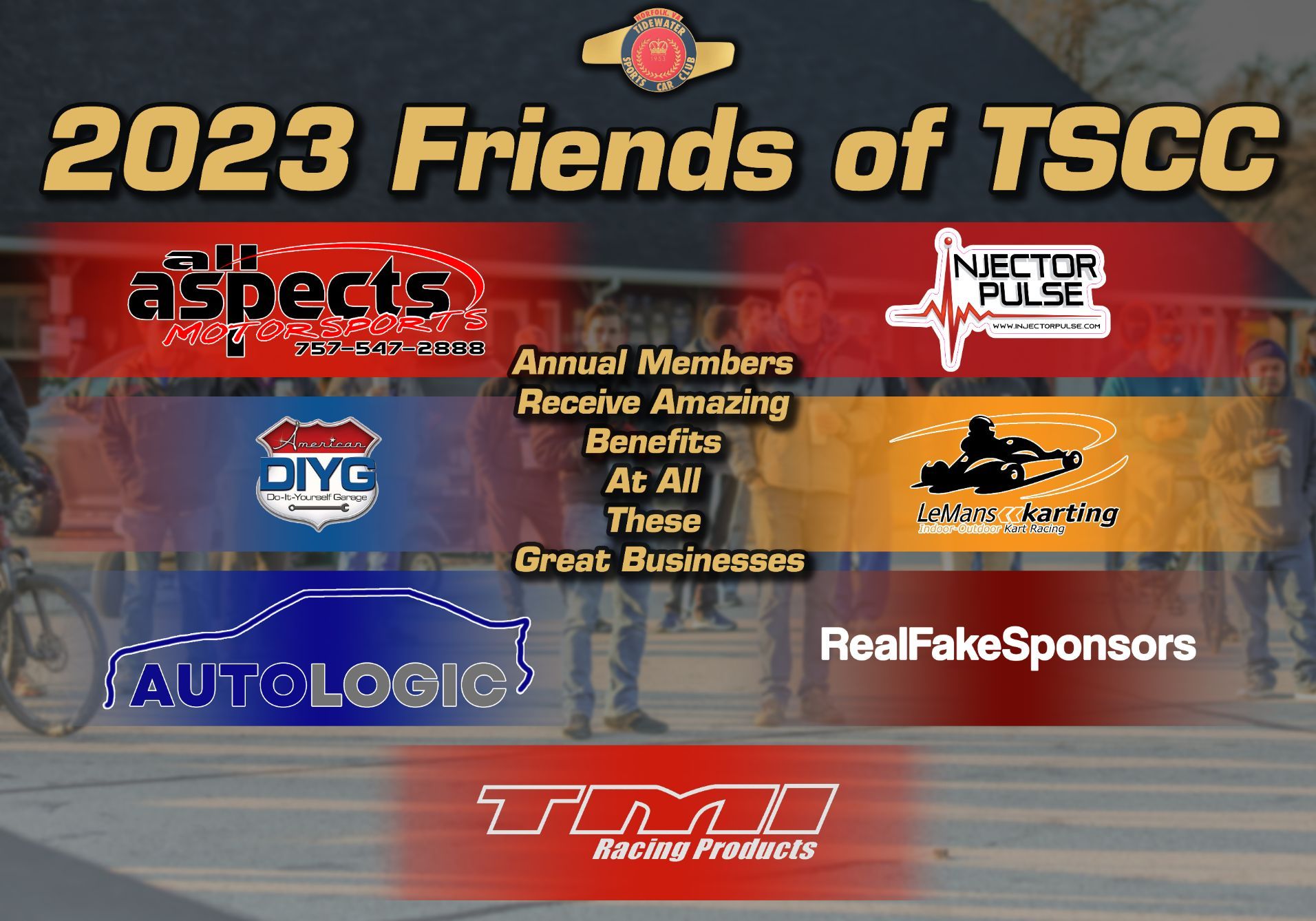 Friends of TSCC Membership Benefits
Tidewater Sports Car Club has teamed up with a number of local businesses to bring benefits to you! Here they are:
All Aspects Motorsports – Chesapeake
Long time friends of the club, All Aspects Motorsports has sponsored our TSCC Dyno Day for the past several years. These guys specialize in all things performance. They can do dyno tuning, performance part installation, corner weighting, alignment, and any normal routine maintenance your race car or daily driver may require. All Aspects Motorsports will be bringing their scales to one of our events this season (TBD) to give members a corner weight readout for free!
American DIY Garage – Virginia Beach
Like turning your own wrenches but don't have the space or special tools to do everything? What if you've just got a tough job that a lift would make far easier/faster? Check out the American DIY Garage in Virginia Beach! They have lifts, tools, and partnerships with local parts stores to help you get everything done yourself without worry of weather or a cramped garage. ADIYG is currently undergoing some internal changes and expects to have their annual member benefits starting in March of '23. we'll update this when they update us!
Autologic of Virginia – Portsmouth
Autologic of Virginia, owned and operated by two long time TSCC members, is your one stop shop for maintenance and repair of your vehicles. Whether it's your daily driver, tow vehicle, or weekend cruiser Autologic is there to help you keep it in tip-top shape. Autologic is offering TSCC Members 10% off non-performance maintenance and repairs! Just mention you are a member when scheduling and have your member card ready at pickup. Some exceptions apply. Please call for details.
Injector Pulse – Chesapeake
Injector Pulse specializes in one thing and one thing only: Reconditioning your injectors so that they all flow correctly and consistently! If you are a TSCC member, let them know so that you can get a 15% discount on their injector services! Click to read more about Injector Pulse and the services they offer.
LeMans Karting – Portsmouth
If you want to work on your driving skills and and race craft between events, this is the place to do it! Go to Lemans Karting in Portsmouth. LeMans Karting is offering a 5% discount off standard racing packages to all TSCC members!
RealFakeSponsors – Suffolk
Operated by one of our members, RealFakeSponsors provides vinyl numbers, classes, and graphics for all sorts of events and race series. Additionally they have a host of comical fake sponsor vinyls to give your car a racecar look without the hassle of getting real sponsors. RealFakeSponsors is offering 10% off vinyl orders for members.
TMI Racing Products – Alton
TMI Racing Products has been keeping our member's safe and well equipped for years. As a full suite racing store, TMI can get you all the safety gear, seats, tools, fluids, supplies, and more that you need to keep your car on track and your person fully kitted. TMI is offering TSCC members 10% off store wide! Online and in store, must present card in store for discount.